Request Information
With the MEA Viability Module for Maestro Pro and Maestro Edge, you can now measure cell viability and coverage with your MEA plates. The MEA Viability Module uses impedance to quantify cell viability and provide a map of cell coverage in each well without interfering with MEA activity measurements. Like all Axion BioSystems assays, it is non-destructive, label-free, and real-time.
Structure and function in one assay. See what you've been missing!
Expand your neurotoxicity and cardiotoxicity assays. Characterize the structural and functional integrity of your cells. Did cell death cause the drop in neural or cardiac activity? The MEA Viability Module can tell you.
Easily measure cell viability on the same electrodes used to characterize the activity of your cells with a label-free and non-destructive assay.  Ensure well coverage and viability with a real-time cell coverage map.
Assay setup
Assay setup is a breeze with pre-configured settings for acquisition and analysis, while allowing fast access to advanced settings as experimental needs require.

Seamlessly record both viability and activity with a single click.

Easily referenced color-coded plate maps provide all the information about your experiment in real time and can be imported and exported directly to and from Microsoft Excel®.
Real-time data visualization
Without measures of cell viability, it is difficult to distinguish functional neurotoxins from cytotoxins.  With the new MEA Viability software module, you can see the whole picture, tracking cell viability with Axion's advanced impedance-based technology.

View viability from every electrode on a well-by-well basis or use plate-wide viability maps to get a broader picture of cellular viability at any time.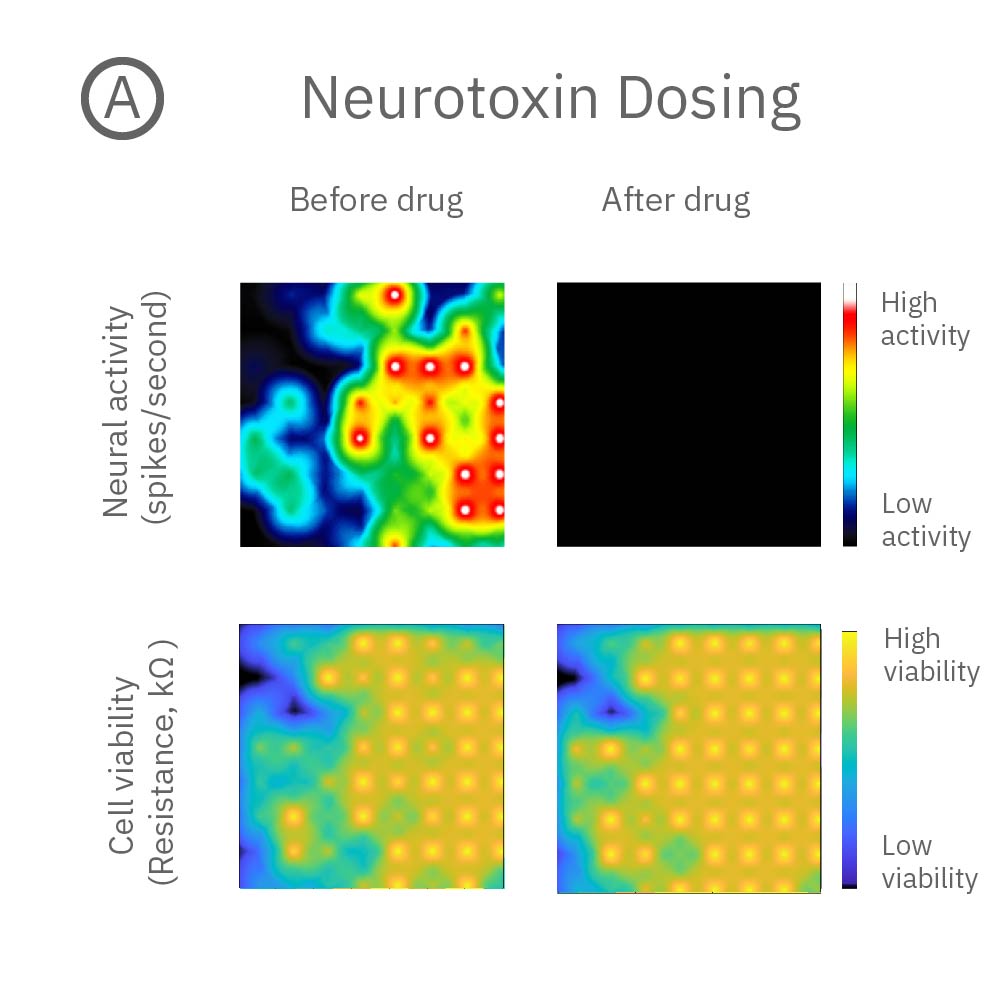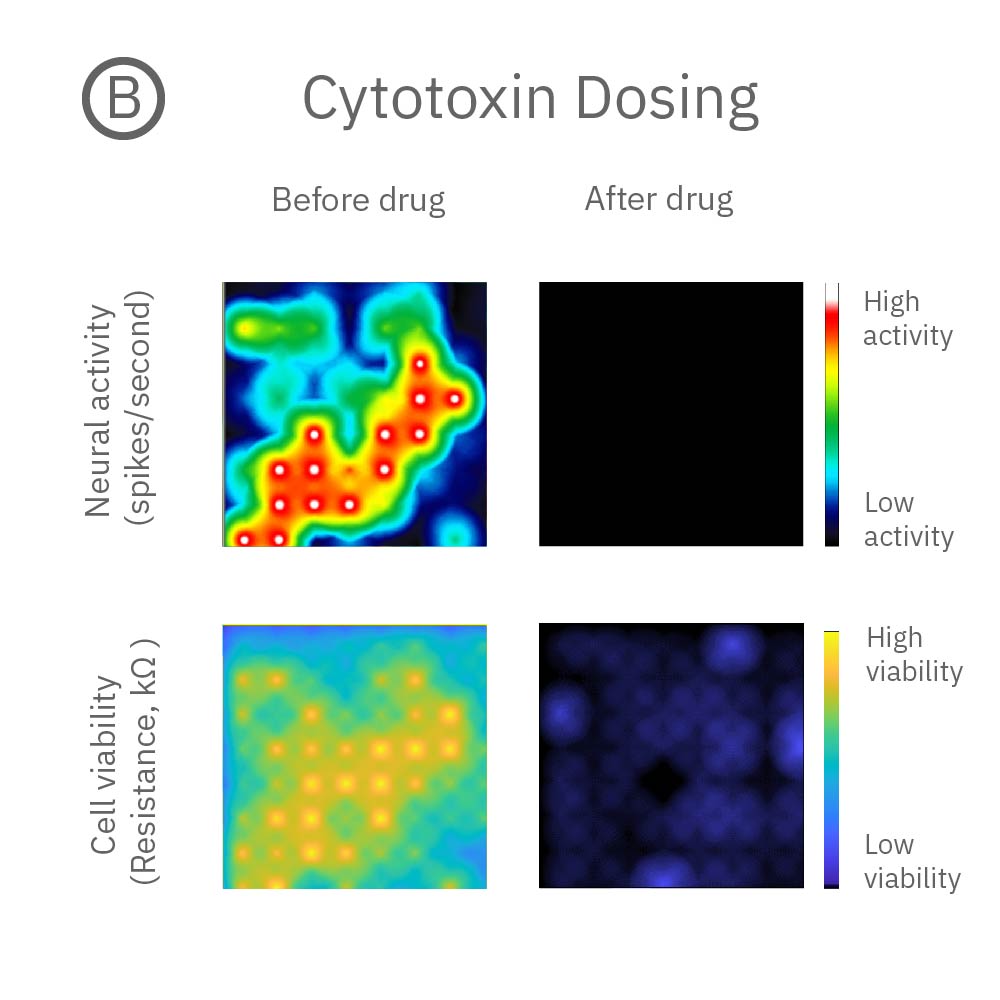 Well A was dosed with a functional neurotoxin that silenced neural activity, but did not impact cell viability. Well B was dosed with a cytotoxin which killed them.
Data analysis tools
The MEA Viability Module includes access to a range of specialized software analysis tools for advanced analysis and figure generation.

Metrics provided by the MEA Viability Module:

Resistance (kΩ) – Impedance for each electrode and well-wide average.
Weighted Mean Resistance (kΩ) – Well-wide average resistance across covered electrodes only.
Number of Covered Electrodes – Quantifies the coverage in each well.
Viability Map – Just like the Activity Map, the Viability Map allows you to visualize cell viability and cell coverage in real-time.

 

The AxIS Metric Plotting Tool allows rapid visualization of experiment results and organization of endpoints according to treatment condition. This tool imports the endpoints generated by AxIS Navigator, the Neural Metric Tool, and the Cardiac Analysis Tool, along with the plate map, and calculates % change relative to baseline for each well, averages replicates, and generates plots comparing treatment conditions or time points. It is easy to view different endpoints with a single click, facilitating data exploration. For neural files, the tool automatically generates a PDF report containing experiment results.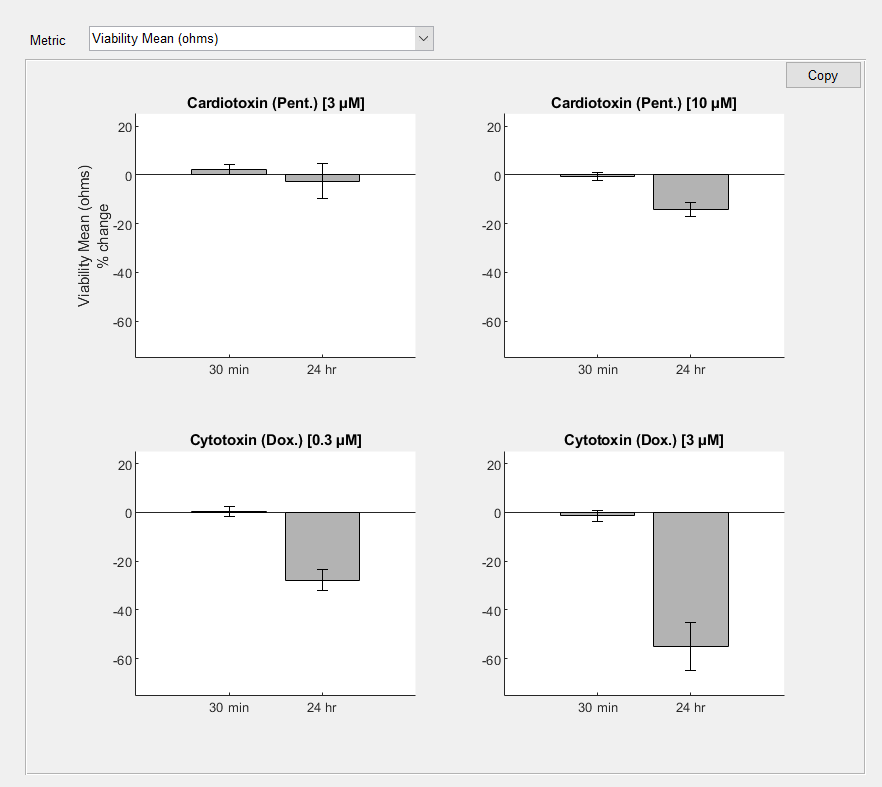 Did your cells die or simply stop firing? Is the culture less active, or are clumps and bare spots giving a false impression? Cell health and function go hand-in-hand in understanding drug responses and disease. With the MEA Viability Module, you can now track cell viability and coverage from the same microelectrodes used to measure electrical function.
The MEA Viability Module uses impedance to detect viable cells attached to the electrodes. Similar to LDH or Trypan Blue assays, impedance is particularly sensitive to membrane integrity. When viable cells attach to the electrode, impedance increases. When membrane integrity is disrupted by cell death, impedance decreases. In this way, impedance provides a quantitative measure of viability and creates a map of cell coverage over the microelectrode array (MEA).

Want to measure viability over time? No problem. Impedance is non-destructive and label-free, meaning you can easily measure cell viability at each time point without worrying about disrupting the biology.
The MEA Viability Module perfectly complements existing MEA assays. Providing another powerful tool for your research. Even in strictly MEA experiments, health and coverage metrics aid in culture optimization and normalization between wells. The Viability Map in AxIS Navigator helps you easily visualize cell coverage in each well.
A high-throughput, multi-mode assay assessing structural integrity and function has never been easier!