Request Information
The Neural Module for Axion's Maestro multielectrode array (MEA) platform is a suite of tools that makes it easy for any researcher to evaluate functional network behavior in neural populations in vitro. From simple activity measures such as mean firing rate to well-wide network bursting, synchrony quantification, and local field potentials, our next generation acquisition and analysis software turns your complex data into clear results. 
Straightforward software for remarkable results
Axion's Neural Module for MEA allows you to quickly and easily visualize your data, plot your results, and produce detailed reports and figures - whether or not you're an electrophysiology expert. The Neural Module can help you get, and analyze, the data you need for your neural research. 
>>

50+ neural metrics

>>

Customizable reports

>>

Publication ready figures
Get to know your neural cells
Powerful data doesn't have to mean complicated software. The Neural Module for AxIS Navigator, which includes the Neural Metric Tool and the AxIS Metric Plotting Tool, delivers a straightforward, simplified approach for the set-up, execution, and analysis of MEA experiments—enabling you to explore more than 50 metrics related to neural behavior and answer key questions about activity, synchrony, and network oscillations.
>> Do your neurons fire? - As the defining feature of neuronal function, accurately measuring action potentials, or "spikes," is critical. Easily quantify the number of spikes, mean firing rate, and more. 

>> Are the synapses functional? - Neural connections, called synapses, are reflected in the synchrony of a culture. Implicated in many neurodevelopmental and neurodegenerative diseases, synapse health is easy to assess by monitoring the synchrony index and other metrics. 

>> Do the neurons form networks? - Neural network activity, indicated by alternating periods of high and low activity across the culture, occur in unique patterns depending on the composition of the culture. Track important network development parameters including the number, frequency, and duration of network bursts.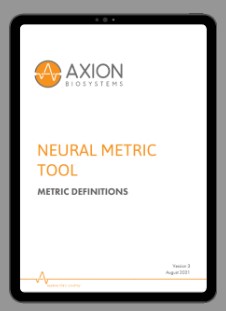 Neural Metrics Definitions
The need for powerful neural analysis software does not have to mean complicated software. Download the Neural Metrics document to discover over 50 neural metrics available to you for your data analysis.
From complex data to clear results
Viewing your results, sharing your findings with colleagues, and generating publication-ready figures for inclusion in posters and publications is simple with the powerful, intuitive Neural Module tools. 
>>

Plate-wide visualizations, raster & synchrony plots, and group comparisons

>>

Customizable .pdf reports, chart images, and Excel tables detailing the analysis layout and results

>>

High-quality, publication-ready figures that are easy to cut and paste—and simple to customize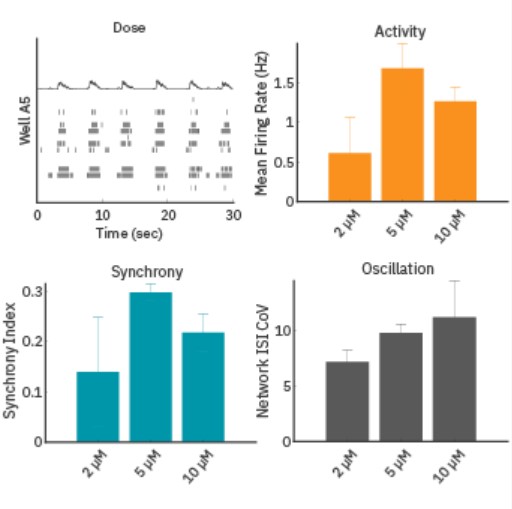 See for yourself
Accelerate your research and discovery into autism spectrum disorders, epilepsy, ALS, Alzheimer's disease, Parkinson's disease, and other neurological conditions. For use with primary or stem cell-derived cultures, as monolayers or 3D organoids, the Neural Module can turn your complex neural data into clear results.
Request A Demo