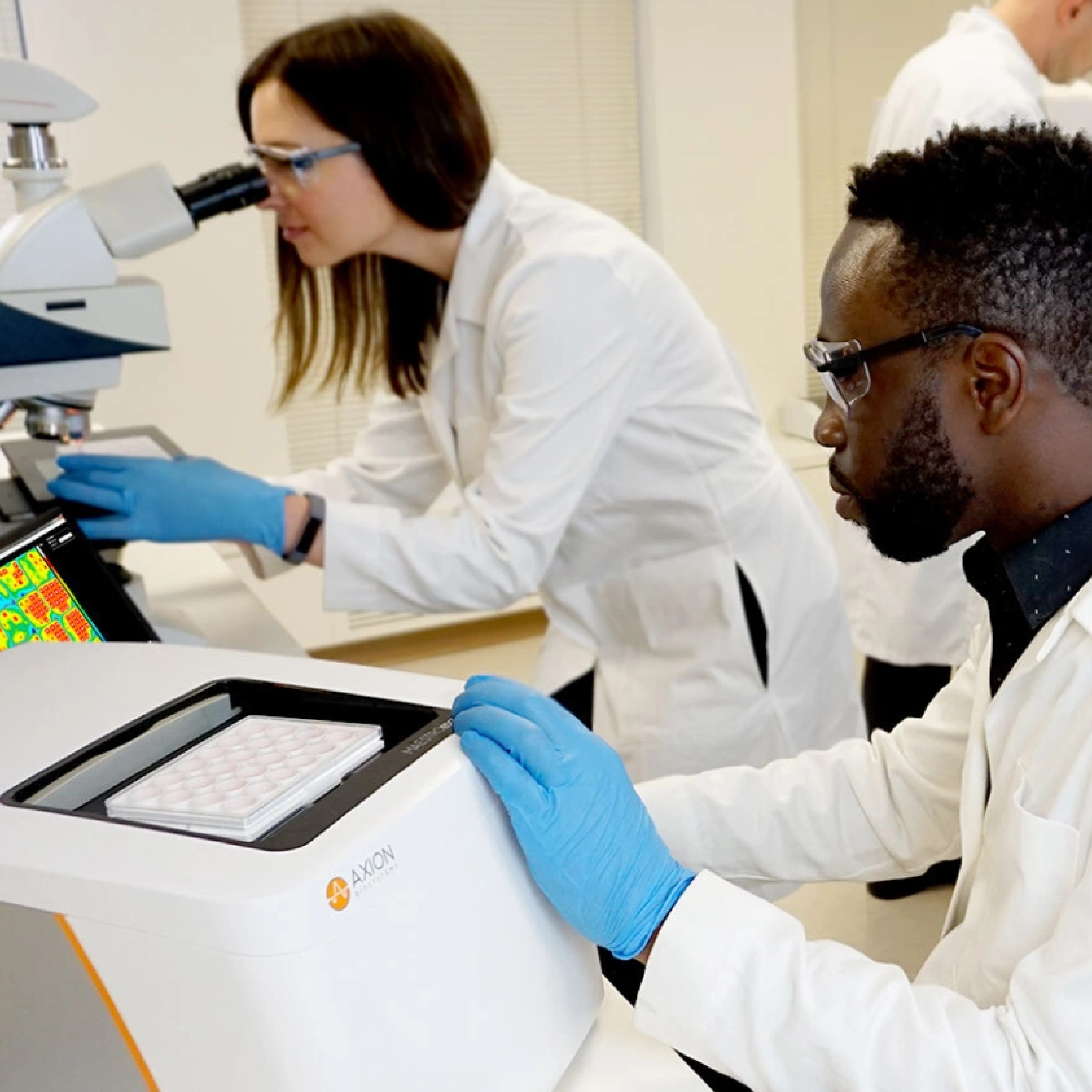 Get more with MEA
Accurately assessing complex cardiac activity in vitro is essential for studying disorders of the human heart and evaluating cardiotoxicity during drug development—but conventional testing methods can miss critical indicators of cellular function. Axion BioSystems' next-generation Maestro multielectrode array (MEA) platform makes it easy for any scientist to noninvasively record activity from cardiac cells in real time over days, weeks, or months, enabling deep insights into cardiac electrophysiology, arrhythmogenic mechanisms, therapeutic safety, and cardiomyocyte development, behavior, and communication.
Discover how Maestro MEA can simplify your experiments and accelerate your therapeutic pipeline.
Functionally characterize your cardiomyocytes and reveal the mechanisms of heart disease.

Identify novel targets, explore precision medicine solutions, and accelerate regenerative medicine research.

Evaluate the proarrhythmic risk of compounds in acute and chronic exposure experiments.
Don't miss a beat with comprehensive in vitro cardiac function​
The Maestro MEA platform is more than MEA, measuring both electrical and contractile properties across the culture.
Electrophysiology
Field & action potential analysis​
Beat & arrhythmia tracking
Contractility
Contraction amplitude
EC coupling
Propagation
Conduction velocity​
Pattern recognition
Reveal hidden mechanisms driving disease and arrhythmias with MEA.
Want to learn more? Explore the cardiac metrics we provide here.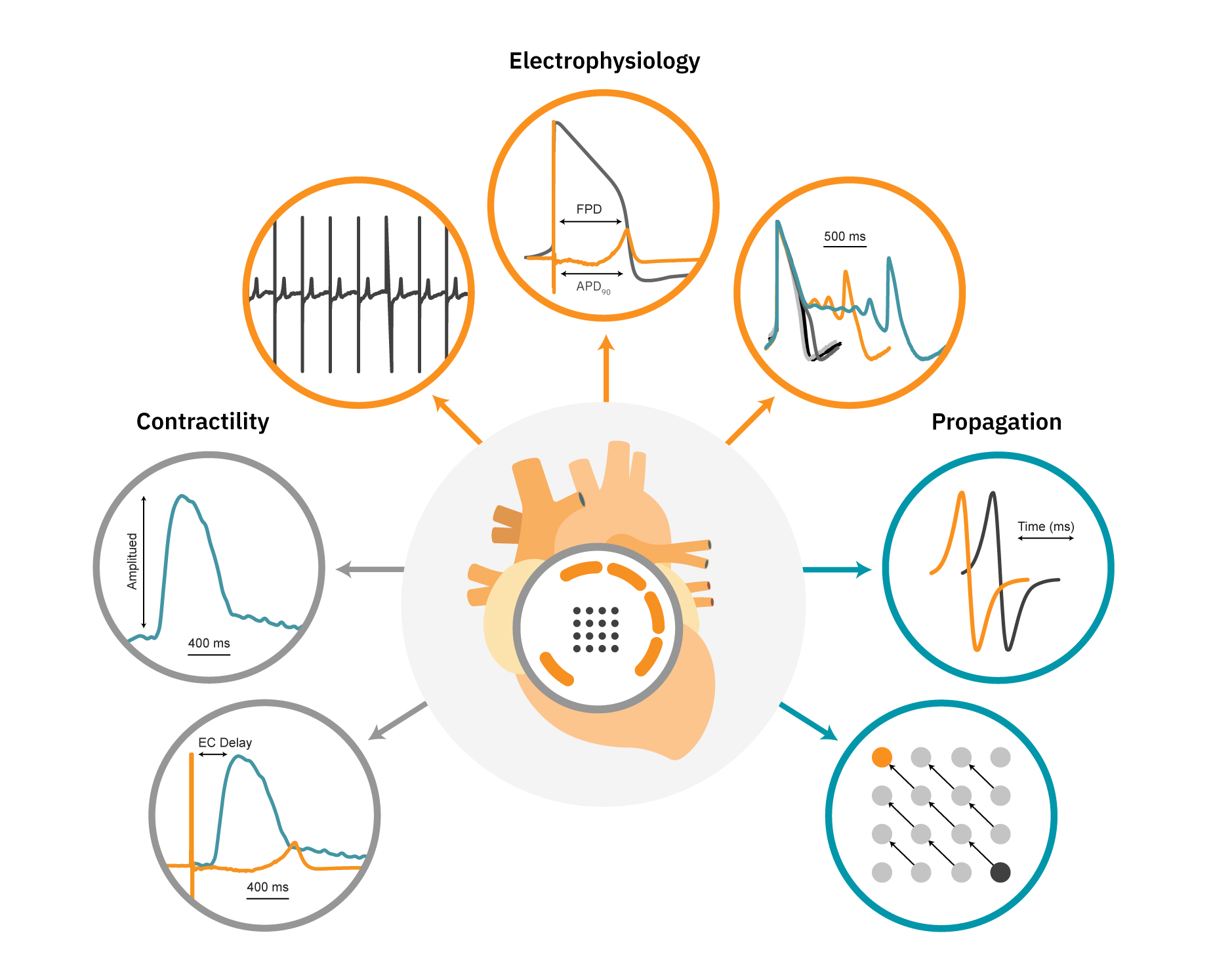 Measure cardiac activity like a Pro
Why choose Maestro MEA?

>>
Accurately evaluating dynamic cardiac activity in vitro is essential for disease research and therapeutic discovery. Learn why scientists around the world choose the Maestro multielectrode array (MEA) platform platform for their experiments:
>> Information-rich recordings: Maestro MEA records key measures of functional cardiac performance including action potential (field potential or LEAP), propagation, and contractility.
>> High spatial resolution: MEAs allow simultaneous recordings from across the syncytia, enabling deep insights across the culture.
>> Long-term monitoring: MEAs are noninvasive, allowing researchers to monitor cardiac activity over days, weeks, or months without disturbing the underlying biology.
>> High throughput: MEAs can simultaneously record from many electrodes across many wells, enabling more efficient data collection and faster results for scientists in academic, pharmaceutical, and biotechnology settings.
>> Easy to use: Unlike other electrophysiological methods, MEA can be performed with basic cell culture techniques, making the assay accessible to any lab.
>> Multiplex compatibility: Information obtained from MEAs can be combined with other techniques such as imaging to provide a more comprehensive picture of cardiac behavior.
>> Animal-free experiments: MEAs track activity in 2D and 3D in vitro cell models, offering a more humane and efficient alternative to animal experiments.